Fogging Systems

Fogging systems are used in restaurants, cafes, terraces, sheds, pools, gazebos, playgrounds, industries, wineries, greenhouses and more.
Hobby Fogging Systems


In hobby systems nozzles are nickel-steel, tube is polyamide with diameter Ø6.35 mm and fittings are plastic. The operating pressure of the system is 10-16 bars.
Professional Fogging Systems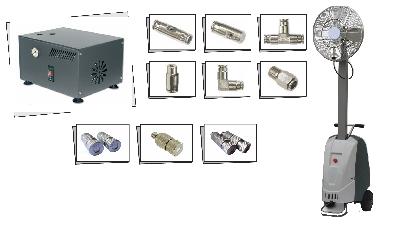 A professional system operates under high pressure, pulverized droplets and does not receive the effect of wetting on bystanders. Nozzles and fittings they are steel and the pipes can be polyamide or steel.

The pump has a pressure between 75-100 bars.